Langur lýsingartími, þar sem lokari myndavélarinnar er látinn standa opinn í margar sekúndur eða jafnvel mínútur, býður upp á margt skemmtilegt og skapandi í ljósmyndun.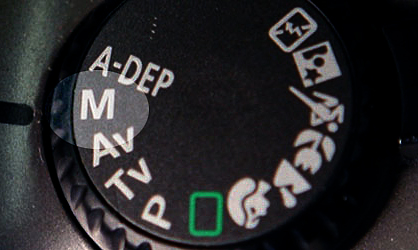 Að fást við þau viðfangsefni, sem hér verður fjallað um, krefst þess að myndavélin sé stillt á manual. Hér duga engar auto-stillingar (til hvers er fólk annars að kaupa sér fínar DSRL – myndavélar ef það ætlar svo bara að taka á auto?)
Það er um að gera að stíga út fyrir þægindahring auto-stillinganna og kanna nýja möguleika sem geta leitt mann á spennandi slóðir.
Hér eru nokkur skemmtileg viðfangsefni sem þú gætir prófað: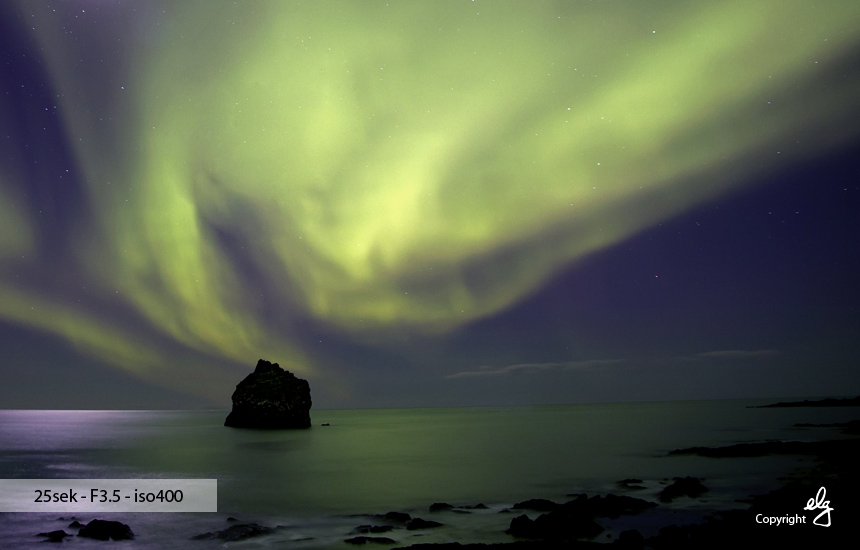 Norðurljós
Norðurljós eru sígilt myndefni þar sem langur lýsingartími er notaður. Myndavélin er látin standa opin í 15-25 sekúndur á þrífæti á meðan ljósið "síast" í gegnum linsuna. Á svo löngum lýsingartíma verða norðurljósin mun skærari á mynd heldur en við sjáum þau með berum augum.
Gæta þarf þess að myndavélin sé stöðug allan tímann svo myndin verði ekki hreyfð. Þess vegna er nauðsynlegt að eiga stöðugan þrífót sem haggast ekki þó smá vindur næði um hann. Annað sem þarf að gæta að er að nota ekki hátt ISO svo myndin verði ekki of kornótt. Best er að fara ekki yfir 400 iso. Erfitt getur verið að taka fókus í myrkrinu en nauðsynlegt er að taka linsuna af autofocus þegar hann hefur verið stilltur svo linsan fari ekki að leita að fókus. Einnig þarf að slökkva  á svokölluðum Image Stabilizer ef linsan er búin þeim möguleika.  Þetta á reyndar alltaf við þegar tekið er á löngum lýsingartíma á þrífæti.
Hér heilmikill fróðleikur um norðurljósa-myndatökur.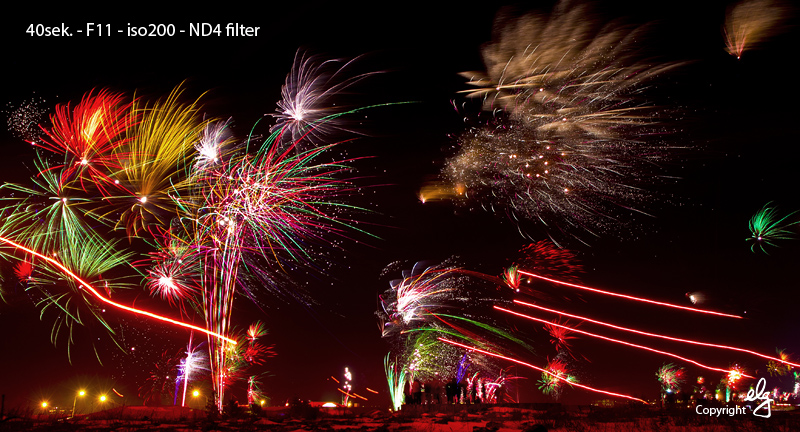 Flugeldar
Flugeldar eru annað myndefni sem gaman er að fást við á löngum lýsingartíma. Í flugeldasýningum eru miklir blossar sem auðveldlega geta yfirlýst og eyðilagt myndina. Þess vegna er betra að nota minna ljósop, t.d. 11-16 og gæta þess að lýsa myndina ekki of lengi. Venjulega er lýsingartíminn á bilinu 10-20sek. Einnig er hægt að lengja hann til muna með svokölluðum ND-filterum sem virka eins og sólgleraugu fyrir linsuna. Þannig er hægt að ná inn á myndina fleiri flugeldum og sprenginum sem gera hana skrautlegri.
Hér er fróðleikur um flugeldamyndatökur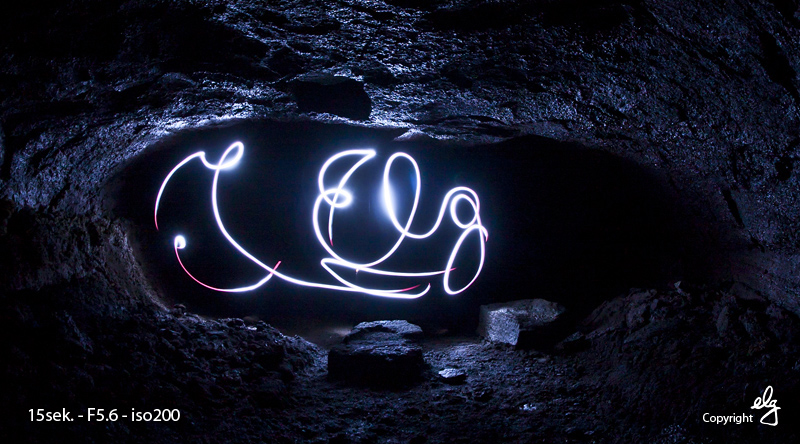 Málað með ljósi
"Light Painting"  eða ljósmálun er annað skemmtilegt viðfangsefni með löngum lýsingartíma.
Á meðan myndavélin stendur opin á þrífæti er "málað" með ljósi fyrir framan hana, hvort sem maður vill teikna eitthvað eða skrifa. Þetta býður upp á áhugaverða tilraunastarfsemi með mismunandi gerðir ljósa. Einnig gæti verið gaman að blanda saman stjörnublysum og ljósum. Ef maður gúgglar "light painting" koma upp fullt af áhugaverðum hugmyndum sem þú getur prófað. Hér þarf að prófa sig áfram með stillingar, þ.e. lokarahraða, ljósop og iso. Myndina hér að ofan tók ég inn í almyrkvuðum helli. Einnig var ég svartklæddur til að endurkasta ekki ljósi. Með því að vera á stöðugri hreyfingu allan lýsingartímann náði ég ekki að festast á mynd.
Hér er meiri fróðleikur um Light Painting.
Hér eru fleiri Light Painting myndir.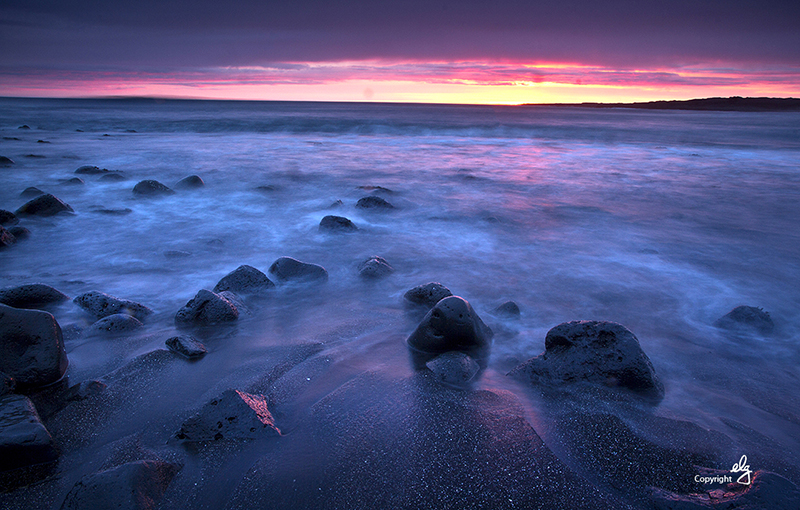 Landslag
Langur lýsingartími býður líka upp á áhugaverða möguleika í landslagsljósmyndum.  Þá er algengt að menn noti ND filtera eða ND Grad  til að geta lengt lýsingartímann án þess að yfirlýsa myndina. Hægt er að fá þá í mismunandi styrkleikum.  Einnig er til svokallaður Big Stopper-filter sem er all vinsæll en með honum er hægt að lengja lýsingartímann út það óendanlega.
Með þessari aðferð fá landslagsmyndir oft fallegt og draumkennt yfirbragð. Vinsælt myndefni er t.d. sólarlag við strönd þar langur lýsingartíminn gerir hafið og öldurnar silkimjúkar.  Sjá nánar hér.
Hér er meiri fróðleikur og myndir sem veita innblástur.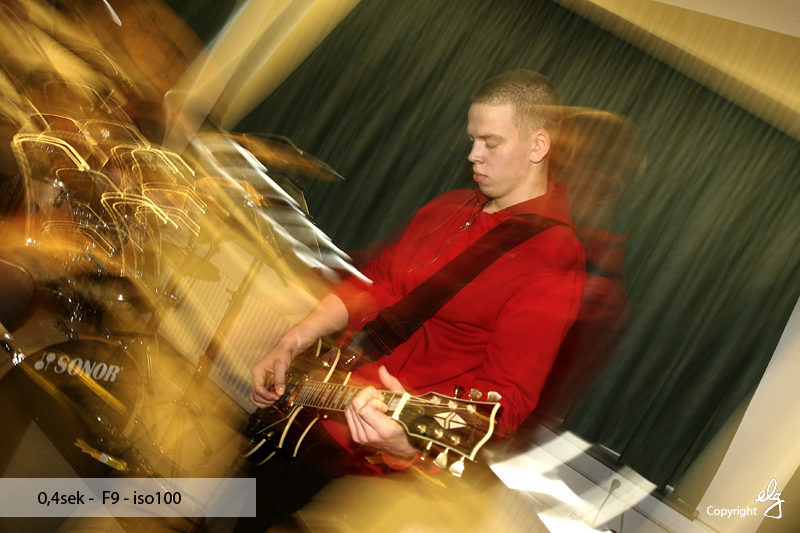 Slow sync-flass
Með því nota flass með hægari lokarahraða fást skemmtilegir hreyfieffektar.  Flassblossinn kemur örlítið eftir að smellt er af. Þetta er það sem kallast "slow sync-flash"
Þessi aðferð er einnig notuð til að draga fram kvöldlýsingu í bakgrunni sem annars yrði bara svört á myndinni með venjulegum flasshraða. Hér eru nokkrar hugmyndir.
Hér er meiri fróðleikur um slow-sync flass.
Allir þessir möguleikar bjóða upp á skemmtilega og skapandi tilraunastarfsemi. Málið er að hugsa út fyrir auto-rammann og vera óhræddur við að prófa nýja hluti. Myndavélin er nefnilega ekki eingöngu til að skrásetja augnablik og viðburði heldur einnig leikfang til skapandi verka.