HDR-ljósmyndun hefur verið all vinsæl en einnig nokkuð umdeild. Mörgum finnst hún vera "svindl" þar sem í henni felst talsvert mikið myndvinnsluföndur. Ég er sammála því að vissu leiti en þá aðallega þegar vinnslan verður of mikil, myndin of ýkt og gengur engan veginn upp fyrir augað. Hins vegar hefur maður hrifist af mörgum fallegum HDR-ljósmyndum sem eiga það sameiginlegt að höfundar þeirra hafa náð mjög góðum tökum á tækninni og ná að halda sér innan við hina fínu línu ofvinnslunnar. Ég reikna líka með að flestir þeirra hafi fallið í gildru hennar í byrjun eins og mörgum hættir til. Síðan nær fólk að þroskast í því sem það er að gera og þróar sína ljósmyndun og tækni í rétta átt. Lykilatriðið í þessu öllu er að myndirnar gangi upp og virki rétt fyrir augað.
Svo ég útskýri HDR þá stendur það fyrir High Dynamic Range og snýst um að ná í eina mynd öllu sviðinu frá ljósustu tónum til hinna dekkstu. Myndavélin gæti aldrei náð því í einu skoti en með því að taka þrjár mislýstar myndir (stundum fleiri) og "bræða" þær saman í eina næst allt tónasviðið inn.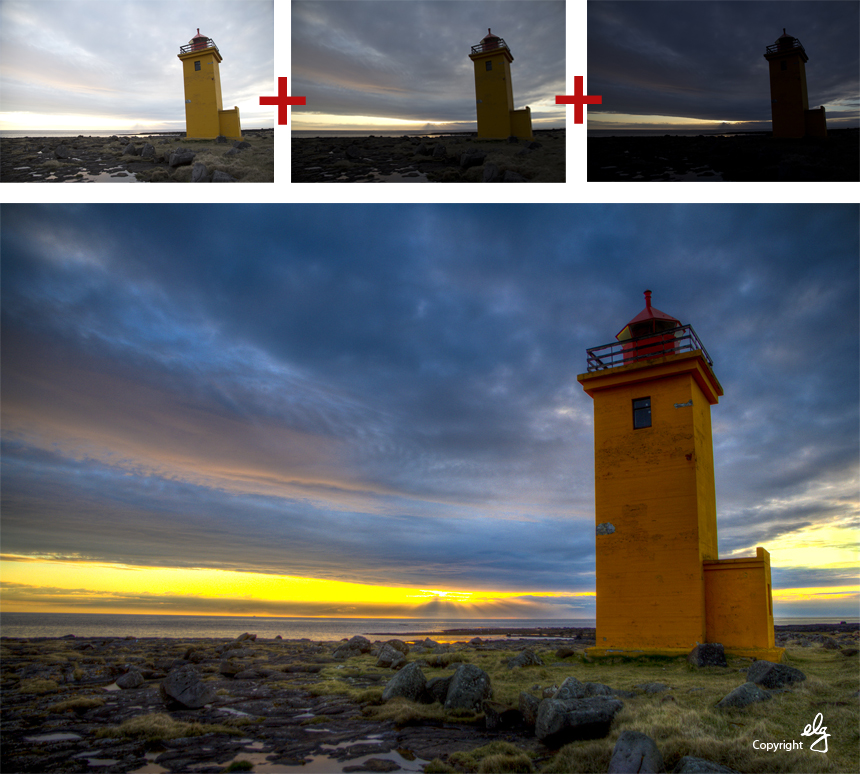 Í vissum tilvikum getur HDR komið sér ákaflega vel. Sem dæmi get ég nefnt myndina hér að neðan sem ég í tók í vor fyrir Hótel Berg í Keflavík en það er húsið sem stendur þarna ofan við smábátahöfnina. Hótelið stendur á skemmtilegum stað og við vildum sýna umhverfið í huggulegri kvöldbirtu með smábátahöfnina í forgrunni. Hin mikla baklýsing frá himninum hefði gert það að verkum að ég hefði fengið talsverðan skugga í forgrunninn. Hugsanlega hefði ég  getað notað NDGrad filter til að draga úr lýsingunni í efri hluta myndflatarins en ég ákvað að nota HDR. Tók þrjú skot, eitt venjulega lýst, eitt yfirlýst og það þriðja undirlýst. Þannig var ég búinn að skrásetja allan tónaskalann og til að koma honum í eina mynd "bræddi" ég þessi þrjú skot saman í þar til gerðu myndvinnsluforriti.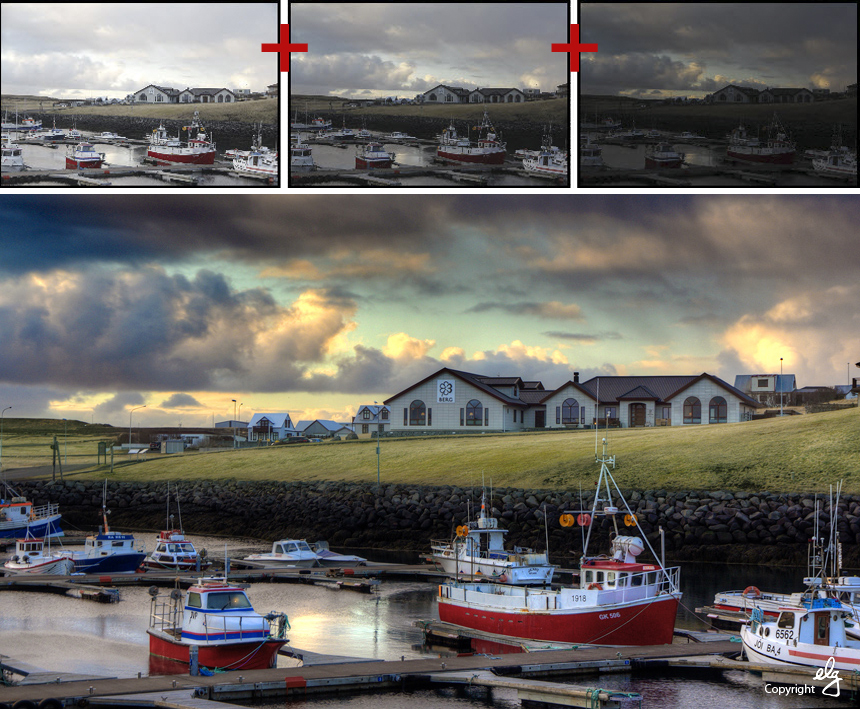 Eitt vinsælasta forritið til þess arna heitir Photomatix og er nokkið auðvelt að vinna með, sjá hér: http://www.hdrsoft.com/
Í Photomatix eru alveg ágætar forstillingar sem hægt er að notast við og stilla eftir þörfum ef svo ber undir. Einnig er nauðsynlegt að vera með hefðbundið myndvinnsluforrit t.d. Lightroom til að fínpússa myndina eftir vinnsluna í Photomatix. Eins og sjá má af sýnishornunum hér að ofan eru mislýstu myndirnar mjög flatar enda eru þær teknar í RAW skráarsniðinu og því algjörlega hráar og óunnar. Besti árangurinn fæst með því að taka í RAW og vinna myndina frá grunni, s.s. litastillingar og fleira.
Ég ætla ekki að eyða fleiri orðum í þetta en bendi á þessa fínu grein þar sem HDR vinnslan er útskýrð mjög vel frá A-Ö.
Góða skemmtun!